What is Contact Improvisation Dance?
2019 February 14-17 – Montréal – Touch & Play Festival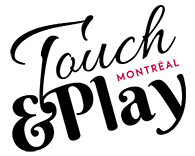 The team of organizers of Touch&Play Montréal are excited to announce that a winter edition of our beloved event is happening in a gorgeous Canadian wonderland "Sur les Toits du Monde" near Montréal!
Les organisateurs du Touch&Play Montréal sont heureux de vous annoncer qu'une édition d'hiver du festival aura lieu!
At the health center Sur les Toits du Monde, located on the highest mountain of Sainte-Catherine-de-Hatley, QC,you will be able to live a peaceful experience in direct connection with nature. Available to you are a salt indoor pool, sauna, SPA, fully equipped community kitchen and meditation room and inspiring library to feed your spirit.
Touch&Play Montréal Winter 2019 will be held on February 14-17th, 2019. This is a bilingual festival, held entirely in both English and French.
Touch&Play is a community and conscious sexuality festival. It's a space for exploration of participants' comfort zones and edges. The festival is built around certain disciplines related to relationships, sexuality and movement. Inspired by: Contact Improvisation, Nonviolent Communication, Authentic Movement, Tantra, BDSM, Ritual, Somatic Consciousness, and more.
Contact Improvisation can be an act of freedom and revelation! Let's pull back the veil, expand our edges, investigate how our patterns and attitudes may limit us and try on new versions of ourselves. We continue to question the relationship of "chemistry & physics" in CI through movement, touch, intimacy, communication and connection to radical truth. Touch&Play festivals have a history of exploring the edges of what CI can be while maintaining high standards of safety and consent, and are known as events in which personal and communal celebration and growth reach new levels.
We believe that major change can and does happen when we give ourselves time and space to recognize our growing edges and feel safe enough to explore and expand them with ourselves and within community. Touch&Play aims to both provide a profound space for honesty, celebration, joy, discomfort, clarity, growth, and acceptance. It also is a time where consent, choice, and self-care come first.
What will happen at Touch&Play?
What happened last time? From Touch&Play 2017 at Earthdance comes this video Are you ready for Liberation? by Zahava ("Z"). At Touch&Play 2017, Zahava led an intensive dealing with The Intimate Act of Creating Performance Ritual: Exploring Kink, Gender Expression & Devotion. See Touch & Play 2017 and Touch & Play 2018 for descriptions of past 2017/2018 USA Touch&Play workshops.
2019 April 19–21 – Ontario Regional Contact Jam — ORCJ
Toronto, Ontario
The annual Ontario Regional Contact Jam (ORCJ) happens in Toronto again this year, on Easter weekend 2019. Follow the link for details.
Especially welcoming to new people, non-dancers, people of all sizes, ages, shapes, mental and physical abilities.
Contact Ian! Allen about car pooling to this event from the Ottawa/Gatineau area.
2019 June 18–23 – Big Heart Dance Camp
UniCamp of Ontario – Honeywood (west of Barrie)
The annual Big Heart Dance Camp is a multi-arts, intergenerational, weekend gathering of creative conscious community. Follow the link for details.
We welcome you to experience embodying your full creative self in a safe, supportive and playful environment. A wide array of dance, yoga, music, and other healing arts modalities are shared through playshops and evening events. Big Heart Dance Camp takes place at Unicamp, near Honeywood, Ontario. Beautiful hiking trails, forest, and a swimming pond invites you to take a dip. Meals are eaten in community, lovingly and mindfully prepared by our kitchen team. We invite you to join us in growing our creative, conscious community as we blossom into our 10th year!
Contact Ian! Allen about car pooling to this event from the Ottawa/Gatineau area.
International Events (*)
(*) Not exactly Canada; but, close enough for improvisational purposes.
2019 December – Earthdance New Years Contact Jam
December 27 2018 – January 1 2019 – Earthdance – Plainfield, Massachusetts, USA
The Earthdance New Years Contact Improv Jam: Frosted air, frozen ground, and blazing fires. As winter swirls outside, we come together on the dance floor to find new connections through Contact Improvisation, co-creating five days of magic, intimacy, warmth, and dancing celebration. Workshops, performances, bonfires, and nonstop jamming ring in the New Year with utter joy at our biggest Jam of the year. Bodies radiate heat, fog the windows, and co-create a weekend of magic, intimacy, and celebration.
This Jam tends to fill quickly, so register early!
Experience steamy dancing in the umbrella barn overlooking a snow-filled meadow, a blazing New Year's Eve bonfire under bright winter stars, and rituals of renewal and promise. This is one of Earthdance's largest contact jam events – a dynamic, rich, and meaningful way to ring in the New Year, not to mention a great place to decompress after the holidays. If you're new to Earthdance or an old friend, please come join us. All levels of experience welcome.
The Jam is usually full by Thanksgiving (USA), so please register early.
What is Contact Improvisation Dance ?